Vedel is one of the ten Heralds of the Almighty. She is associated with the number Vev, the essence Lucentia,[1] and the divine attributes Loving and Healing. She is the patron Herald of the order of Knights Radiant known as Edgedancers.
She is called Vedeledev in modern Alethkar.
A Kharbranthian oath of "by Vedeledev's golden keys!" is used to express astonishment.[1]
According to
Talenel'Elin
, she would train surgeons to prepare for the
Desolations
.
[citation needed]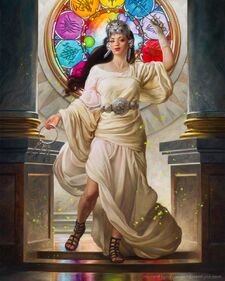 Appearance
Edit
Vedel would look to be Alethi.[2]
Re: Lucentia, the eyes are associated with crystal and glass because they are the windows into the mind and the spirit.[1]
References
Edit
Community content is available under
CC-BY-SA
unless otherwise noted.