She-Hulk Trailer Dropped - The Loop
Play Sound
Tanavast was the Shardholder of the Shard of Adonalsium, Honor. He is/was a deity, widely worshipped on the world of Roshar. His power stemmed from Honor, which presumably fuels the ten Surges. He was killed, or Splintered,[1] by the Shard Odium sometime after the Oathpact was broken, which was a very long time ago.[2]
"

Whether this was Tanavast's design or not, millennia have passed without Rayse taking the life of another of the sixteen.*

"
Personality
[
]
"
"Tanavast was a fine enough fellow - bought me drinks once - but he was not God."
"
Attributions
[
]
The Stormfather refers to Kaladin as a "CHILD OF TANAVAST. CHILD OF HONOR."[5]
Additionally, he refers to him as a "SON OF TANAVAST."[6]
History
[
]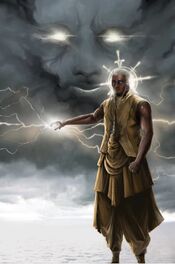 From the beginning of The Way of Kings, Tanavast is indeed dead, but - according to Brandon - he apparently could have survived Odium's Splintering for a time.[7][8]
According to Brandon's beta-reader, Drew McCaffrey,[3] Tanavast is now a Cognitive Shadow merged with the Stormfather.[9]
Expansion required
: It was requested that this article should be expanded with additional information.
Help us improve this article by
expanding it
, and remove this notice once the article is more complete.
Notes
[
]
*Rayse is/was the Shardholder of Odium.[10]
References
[
]