Mayalaran is the name with which Adolin's dead spren Shardblade identifies herself to him by tickling his mind, very faint, like a sigh. Upon learning this, he affectionately calls her Maya and invites her to bring down a thunderclast with him.[1]
When she was alive, she was a Cultivationspren and an Edgedancer's Blade.[citation needed]
While in Shadesmar, she is known as a deadeye.[2]
Appearance
Edit
She is a blue one-edged blade. Her sharp side is sinuous, rippling like an eel curving up into a point. Her opposite side has delicate ridges, with the appearance of crystal formations. She is six feet long once summoned.[3][4][5][6]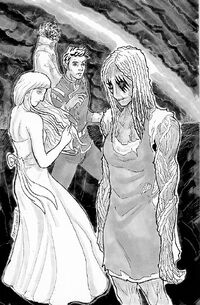 According to Brandon, Maya would have wanted to bond to Adolin had she been alive.[7]
It is presumable that Maya might be able to be resurrected.[8]
There are several indications in Oathbringer that Maya may be coming alive again; she attacked Adolin's enemy while she was a spren, has given her name, and seems to have taken less than ten heartbeats to summon as a Blade.[1]
References
Edit
Community content is available under
CC-BY-SA
unless otherwise noted.