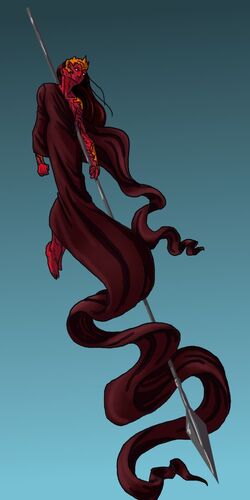 The Fused are both the spren of parshmen long dead, and those parshmen reborn - Cognitive Shadows - through the Voidspren of Odium.[1] They are some of the earliest Parshendi warriors.
"

THEY ARE THE SPREN OF PARSHMEN LONG DEAD. THEY ARE THEIR KINGS, THEIR LIGHTEYES, THEIR VALIANT SOLDIERS FROM LONG, LONG AGO. THE PROCESS IS NOT EASY ON THEM. SOME OF THESE SPREN ARE MERE FORCES NOW, ANIMALISTIC, FRAGMENTS OF MINDS GIVEN POWER BY ODIUM. OTHERS ARE MORE ... AWAKE. EACH REBIRTH FURTHER INJURES THEIR MINDS.

THEY ARE REBORN USING THE BODIES OF PARSHMEN TO BECOME THE FUSED.

"
The Fused are the souls of those who refused to move on.[1] Essentially, they're using the innate vulnerability within the Parsh species to form a connection, thereby pinning each their souls to a new vessel.
Killing them is difficult, and even if one succeeds in doing so, they would simply be reborn at the next Everstorm, assuming a willing parshman could be found to take the burden.[2] It would take a great deal more power than any non-Shard has access to in order to severely harm them.
They are ancient singers who survived their deaths and are able to possess living singers during form bonding in the Everstorm. They are the highest authority in the singer society who have powers similar to Surgebinding.
Moash has said that they only have nine orders instead of ten.[2]
Graves had spoken of these creatures, calling their return merely one of many events predicted by the inscrutable Diagram.[3]
Appearance
Edit
They have deep red eyes and red-violet carapace, some of which frames their faces.[3]
Said carapace armor in which they are covered is as brilliant and wicked as Shardplate.[2]
Relationships
Edit
Hoid has mentioned one of the names of a Fused,[citation needed] which sounds like they knew each other, so either there's something more, or the Fused have been around a much longer than readers have been told. That Hoid would have been friendly with some of them implies that he knew them before the first Desolation.
Known Fused
Edit
Speculation
Edit
Because their minds and self identities have been so corrupted by repeated deaths and trauma, they now have tarnished mental images of themselves. So, when they each inhabit a new host, each their identities corrupts it fully, thereby creating strange, almost bestial creatures of themselves.
References
Edit
Community content is available under
CC-BY-SA
unless otherwise noted.