She-Hulk Trailer Dropped - The Loop
Play Sound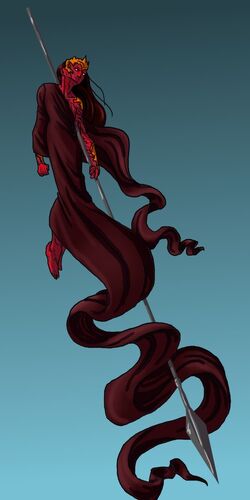 The Fused are both the spren of parshmen long dead, and those parshmen reborn - Cognitive Shadows - through the Voidspren of Odium.[1] They are some of the earliest Parshendi warriors.
"

THEY ARE THE SPREN OF PARSHMEN LONG DEAD. THEY ARE THEIR KINGS, THEIR LIGHTEYES, THEIR VALIANT SOLDIERS FROM LONG, LONG AGO. THE PROCESS IS NOT EASY ON THEM. SOME OF THESE SPREN ARE MERE FORCES NOW, ANIMALISTIC, FRAGMENTS OF MINDS GIVEN POWER BY ODIUM. OTHERS ARE MORE ... AWAKE. EACH REBIRTH FURTHER INJURES THEIR MINDS.

THEY ARE REBORN USING THE BODIES OF PARSHMEN TO BECOME THE FUSED.

"
The Fused are the souls of those who refused to move on.[1] Essentially, they're using the innate vulnerability within the Parsh species to form a connection, thereby pinning each their souls to a new vessel.
Graves had spoken of these creatures, calling their Return merely one of many events predicted by the inscrutable Diagram.[2]
They are ancient singers who survived their deaths and are able to possess living singers during form bonding in the Everstorm. They are the highest authority in the singer society and have powers similar to Surgebinding.[3]
When Venli steps up to a group of newly Returned Fused, two still have trouble moving. They lurch, stumble, fall to their knees. A different two wear smiles, twisted and wrong. It is her determination that the listener gods are not completely sane.[3]
When she accuses Ulim of deceiving those amongst them who were chosen to open themselves up to a new form that would be stronger than stormform, he tells her that their gods need bodies. He says that it's like this every Return, and that she should be flattered for the good of the race. That these are the Fused: ancient souls reborn.[3]
Appearance
[
]
They have deep red eyes and red-violet carapace, some of which frames their faces.[2][3] They stand tall, with broad chests and powerful stances. Their bodies pulse with a dark violet power - a glow that somehow evokes both light and darkness at once.[3]
Ridges of carapace poke through their skin.[3] They are a subspecies that grow large portions of carapace armor in wicked shapes.[4] That carapace armor is as brilliant and wicked as Shardplate.[5]
Fused can return in malen or femalen form, though Venli states that Leshwi prefers femalen forms as she was originally femalen. When they return, they can bring certain characteristics with them, such as unique coloring or carapace.[6]
Characteristics
[
]
They converse amongst themselves in a strange language, foreign to Venli.[3]
According to Moash, the flying type of Fused seem to be in charge, even of the other Fused.[4]
Additionally according to Moash, there were many crazy ones.[4]
A violet glow steams from their bodies as they fly when attacking their opponents.[7] They can survive wounds, like Radiants. Voidlight sustains them.[7] However, a cut upward, toward the heart - which is brittle and hard - is lethal. The Fused's red eyes will wink out.[7] Still, unless the Heralds set up their prison again, Kaladin couldn't ever really kill one of the Fused because they can return.[7]
In Shadesmar, their shadows trail behind them, pointing the wrong direction.[8]
Killing them is difficult, and even if one succeeds in doing so, they are simply reborn at the next Everstorm, assuming a willing parshman can be found to take the burden.[5] It would take a great deal more power than any non-Shard has access to in order to severely harm them.
Moash has said that they only have nine orders instead of ten.*[5]
According to Brandon, all of the Fused have an active and an inactive way to use their Voidlight. For some of them, one way is more dramatic than the other. If they don't use it actively, they get a passive effect. And if they do use it actively, it runs out.[9] They each only have one power, as opposed to Knights Radiant, but they have the staying power of consistency depending on what type of Fused they are.[10]
Genders
[
]
One malen Fused, reminiscent of the Parshendi, have layered plates of chitin armor creeping down across their foreheads and rising from their cheeks, marbled black and red. It had deep, glowing red eyes.[7]
Occupations
[
]
According to Moash, some of the Fused are carpenters.[4] Leshwi asks Venli to find a tailor or seamstress amongst the Fused or Parshman, but Venli says she cannot as the humans are more skilled in this area at present.[6]
Types
[
]
Tactics
[
]
Their strikes never last long; they hit hard, testing reaction times at various places along the wall - and they often break into and search the towers nearby. They prepare for a true assault, and - Kaladin figures - also try to find out how the Wall Guard is feeding itself.[15]
Abilities
[
]
When one Fused presses it's hand against Moash's chest and smiles, dark Voidlight spreads from its hand across Moash's body. Both of them then rise into the air.[4] When this Fused slows them both to a hovering stop, the Fused shoves Moash to the side, then zooms away in a flaring roil of cloth, though Moash still drifts alone above the expansive landscape.[4]
When another Fused Lashes Kaladin, he reorients himself in the blink of an eye. After some of Kaladin's maneuvering, this Fused comes soaring downward, carrying a lance.[7] When Kaladin then crashes into the Fused in midair, shoving the creature's lance to the side, the Fused Lashes them higher, falsely assuming that the more height it has, the more advantage it would gain over Kaladin.[7] When Kaladin then stabs it with Syl as a long knife, and the creature just grunts, he realizes that they can survive wounds, just like Radiants. That Voidlight sustains them.[7]
Orders
[
]
Similar to the Knights Radiant, the Fused have different orders that correspond to a different set of Voidbringing abilities. Thus far, there have only been four separate orders of Fused revealed. The Windrunner equivalent (Shanay-im),[14] the Edgedancer equivalent, the Elsecaller equivalent, and the Lightweaver equivalent (Mavset-im).[13]
Known Fused
[
]
Relationships
[
]
Hoid mentioned one of the names of a Fused,[citation needed] which makes it sound like they knew each other, so it is possible the Fused have been around much longer than readers know. That Hoid would have been friendly with some of them implies that he knew them before the first Desolation.
Quotes
[
]
"

Our gods were born splinters of a soul,
Of one who seeks to take control,
Destroys all lands that he beholds, with spite.
They are his spren, his gift, his price.
But the nightforms speak of future life,
A challenged champion. A strife even he must requite.

"

–From the Listener Song of Secrets, final stanza[16]
"
"They are the souls of those ancient. Those who gave of themselves to destroy."
"
"
"They hate you and your kind, sir. This new form they have given my people ... it is something terrible. It will bring something terrible."
"

–Rlain to Dalinar[17]
Notes
[
]
There is an extensive article on tor.com about what readers know of the Fused thus far here.
*Jasnah has posited that there would be ten varieties of Fused, though Dalinar - offering no explanation of why he knew this - said there would be only nine.[14]
According to Brandon, the madness of the Fused is related to the madness of the Heralds.[18] The Stormfather mentions that each time one of the Fused is reborn, their mind is further damaged.[citation needed] It is similar with each Herald. Too many rebirths, possibly compounded by the fact that they not only often died each Desolation, but were tortured until the next one.[19]
Speculation
[
]
Because their minds and self identities have been so corrupted by repeated deaths and trauma, they now have tarnished mental images of themselves. So, when they each inhabit a new host, each their identities corrupts it fully, thereby creating strange, almost bestial creatures of themselves.
References
[
]