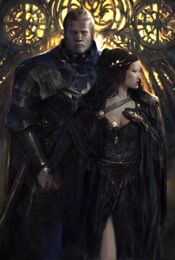 Dalinar's and Navani's wedding was decided collectively by the betrothed to forgo the extravagance of a traditional Alethi wedding. They invited some others, such as Brightlord Aladar and his daughter, Sebarial and his mistress, Kalami and Teshav to act as witnesses. Relieved to see them, Dalinar had feared that Navani would be unable to find women willing to notarize their wedding.[1]
Kadash, the ardent, came as requested and was visible in the crowd.[1]
Dalinar wasn't sure what to make of the fact that no one - not even his sons, Adolin and Renarin - had questioned him when he'd announced his intent to marry. Even Elhokar said to him that the marriage would make his mother happy.[1]
When they are wed, Navani wears a traditional bridal crown, which Dalinar is shocked to see. It is an intricate headdress of jade and turquoise that, he notices, compliments her wedding gown. The gown is red - for luck - and embroidered with gold, shaped in a much looser style than the havah, with wide sleeves and a graceful drape.[1]
The Stormfather presides over the ceremony, in which both Dalinar and Navani swear oaths before him, and to one another.[1]
"

OATHS, the Stormfather rumbled, ARE THE SOUL OF RIGHTEOUSNESS. IF YOU ARE TO SURVIVE THE COMING TEMPEST, OATHS MUST GUIDE YOU.

"I am comfortable with oaths, Stormfather," Dalinar called up to him. "As you know."

YES. THE FIRST IN MILLENIA TO BIND ME. Somehow, Dalinar felt the spren's attention switching to Navani. AND YOU. DO OATHS HOLD MEANING TO YOU?

"The right oaths," Navani said.

AND YOUR OATH TO THIS MAN?

"I swear it to him, and to you, and any who care to listen. Dalinar Kholin is mine, and I am his."

YOU HAVE BROKEN OATHS BEFORE.

"All people have," Navani said, unbowed. "We're frail and foolish. This one I will not break. I vow it."

The Stormfather seemed content with this, though it was far from a traditional Alethi wedding oath. BONDSMITH? he asked.

"I swear it likewise," Dalinar said, holding to her. "Navani Kholin is mine, and I am hers. I love her."

SO BE IT.[1]

"
Afterward, the Stormfather vanished. Amongst the gathered guests, smoky blue awespren rings burst out above heads. Navani was, instead, ringed by gloryspren, the golden lights rotating above her head.[1]
Sebarial rubbed his temple, as if trying to understand what he'd seen. Dalinar's new guards sagged, looking suddenly exhausted. Adolin let out a whoop, running over, trailing joyspren in the shape of blue leaves that hurried to keep up with him. He gave Dalinar - then Navani - enormous hugs. Renarin followed, more reserved, but equally pleased with a wide grin on his face.[1]
For Dalinar, the next part became a blur, shaking hands, speaking words of thanks. Insisting that no gifts were needed, as they'd skipped that part of the traditional ceremony. It seemed that the Stormfather's pronouncement had been dramatic enough that everyone accepted it. Even Elhokar, despite his earlier pique, gave his mother a hug and Dalinar a clasp on the shoulder before going below. That left only Kadash. The ardent waited to the end. He stood with hands clasped before him as the rooftop emptied.[1]
References
Edit
Community content is available under
CC-BY-SA
unless otherwise noted.